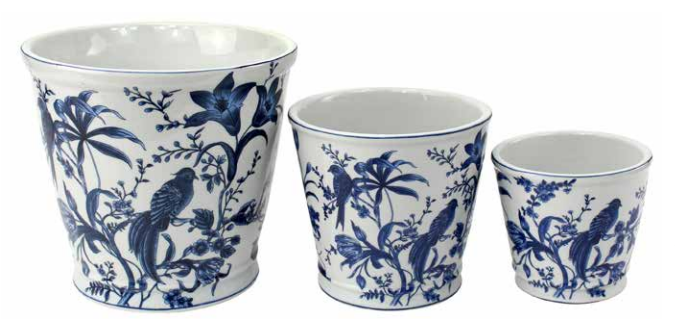 Luxe Furniture & Homewares
Set Of Three Provence Round Pots
or make 4 interest-free payments of $42.25 AUD fortnightly with
More info
Make a stunning statement in your home with this beautiful set of round ceramic pots! Featuring a stunning floral & bird design they are ideal as a decorative piece with an added faux orchid or simply fill them with herbs or florals! Each set comes with 1 small, 1 medium and 1 large pot.
Dimensions:
Small: L: 13.5cm x W: 13.5cm x H: 12.5cm - Holds 4 inch (100mm) plastic pot
Medium: L: 17.5cm x W: 17.5cm x H: 16cm - Holds 6 inch (140mm) plastic pot
Large: L: 23.5cm x W: 23.5cm x H: 21.5cm - Holds 7 inch (170mm) plastic pot
Each pot has a drain hole and comes with a plastic plug
This product has been handcrafted through manual processes and as a result may contain slight flaws and variations in colour and finish. These minor imperfections are standard characteristics of these beautifully handmade products. Colour varies according to lighting.