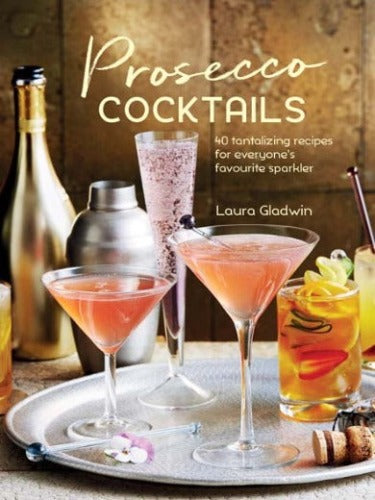 Luxe Furniture & Homewares
Prosecco Cocktails Book
or make 4 interest-free payments of $8.75 AUD fortnightly with
More info
This beautiful book is a collection of 40 delicious cocktail recipes featuring the hugely popular Italian sparkling wine that has taken social drinking by a storm – Prosecco!
Ah, Prosecco, how we love it! With its crisp, zesty bubbles and light, fruity flavour, Champagne's perkier younger cousin is our favourite sparkling wine, hands-down. But what many of us don't realize is that those easy-drinking qualities we love so much are exactly what makes it a fantastic base for cocktails, too.
Prosecco's sprightly bubbles combine brilliantly with all kinds of liqueurs and spirits, so it's time to open the drinks cabinet and start experimenting – and Prosecco Cocktails is the perfect companion to get you started. There are Prosecco-led twists on the classics, like the Kir Royale or Prosecco Mojito; sophisticated apéritifs like the classic Spritz or the strawberry-infused Rossini; absolute party barnstormers like the Sangria Blanca, infused with white peach and basil; and intriguing sweet treats like the Wild Berry Cheesecake or Sparkling Parma Violet.
Everyone enjoys the magical sound of well-chilled fizz cascading into a sparkling clean glass, adding its special cheer to any occasion. Now let's take it to a whole new level! Whether you're hosting an action-packed hen party or a dainty baby shower, a sunny beachside barbecue or a festive Christmas drinks gathering, an intimate meal à deux or a gossip-fuelled get-together, a fun family celebration or a soignée dinner party, the true joy of Prosecco is that it's ideal for any occasion. 
Dimensions:  H: 18cm x W: 12cm